VMware NSX
VMware NSX is a network virtualization and security platform that enables the virtual cloud network, a software-defined approach to networking that extends across data centers, clouds and application frameworks.
VMware NSX is suitable for all infrastructure types:
Multi-cloud environments
On-premises data centers
Bare metal servers
Containerized workloads
VMware NSX-V
VMware NSX-V is a software-defined networking solution is built around the VMware vSphere ecosystem and includes the requirements that you would expect in VMware vSphere such as having a vCenter Server and ESXi hosts.
This product depends on VMware vSphere and connection with vCenter. Once NSX-V pairs with vCenter, the integration with vSphere is seamless.
NSX-V Main Components:
The primary components of VMware NSX-V are:
NSX-V Manager
NSX-V Controller
NSX-V Edge
Logical Switch
Transport Zone
NSX-V Manager: It provides the graphical user interface (GUI) and the REST APIs for creating, configuring, and monitoring NSX components, such as controllers, logical switches, and edge services gateways.
NSX-V Controller: It is an advanced distributed state management system that provides control plane functions for NSX logical switching and routing functions.
NSX-V Edges: The services gateway gives you access to all NSX Edge services such as firewall, NAT, DHCP, VPN, load balancing, and high availability. You can install multiple Edge services gateway virtual appliances in a datacenter. Each Edge service gateway virtual appliance can have a total of ten uplink and internal network interfaces.
Logical Switch: An NSX Data Center for vSphere logical switch reproduces switching functionality (unicast, multicast, broadcast) in a virtual environment completely decoupled from underlying hardware. Logical switches are similar to VLANs, in that they provide network connections to which you can attach virtual machines.
Transport Zone: A transport zone defines a collection of hosts that can communicate with each other across a physical network infrastructure.
Benefits of NSX-V
VMware NSX reproduces the entire network model in software, enabling any network topology – from simple to complex multi-tier networks – to be created and provisioned in seconds, independent of underlying hardware. It brings networking and security closer to the application wherever it is running.
Prerequisites
OpsRamp Classic Gateway 10.0 and above (or) OpsRamp Cluster gateway

Ensure that "adapter integrations" add-on is enabled in client configuration. Once enabled you can see VMware-NSX-V integration under Setup » Integrations » Adapter section
Install the integration
From All Clients, select a client.

Go to Setup > Integrations > Integrations.

From Available Integrations, select Adapter > VMware-NSX-V. The Install VMware-NSX-V Integration popup appears.
Note: Ensure that Adapter addon is enabled at client and partner levels.

Enter the following information:
a. Name: Name of the integration
b. Upload Logo: Optional logo for the integration.
c. GateWay Profiles: Select a gateway management profile to associate with the client.


Click Install. The Integration page displays the installed integration.

Configure the integration
In CONFIGURATION section, click + Add.

On Create Adapter Configuration, enter:

Name: Configuration name.
Protocol: Protocol
NSX-V Manager IP Address/Host Name: IP address or host name of the target.
Port: Port
Notification Alerts: Select TRUE or FALSE.
Notes:

By default FALSE is selected.
If you select TRUE, App will handle Critical/Recovery failure alert notifications for Connectivity, Authentication Exceptions.

In the Credential section, select Custom and enter the Username and Password.

In the Resource Types & Metrics section, select the metrics you want and configure for availability and alert conditions.

In the Discovery Schedule section, select Recurrence Pattern to add one of the following patterns:

Minutes
Hourly
Daily
Weekly
Monthly



In the Monitoring Schedule section, configure how frequently the monitoring action should trigger.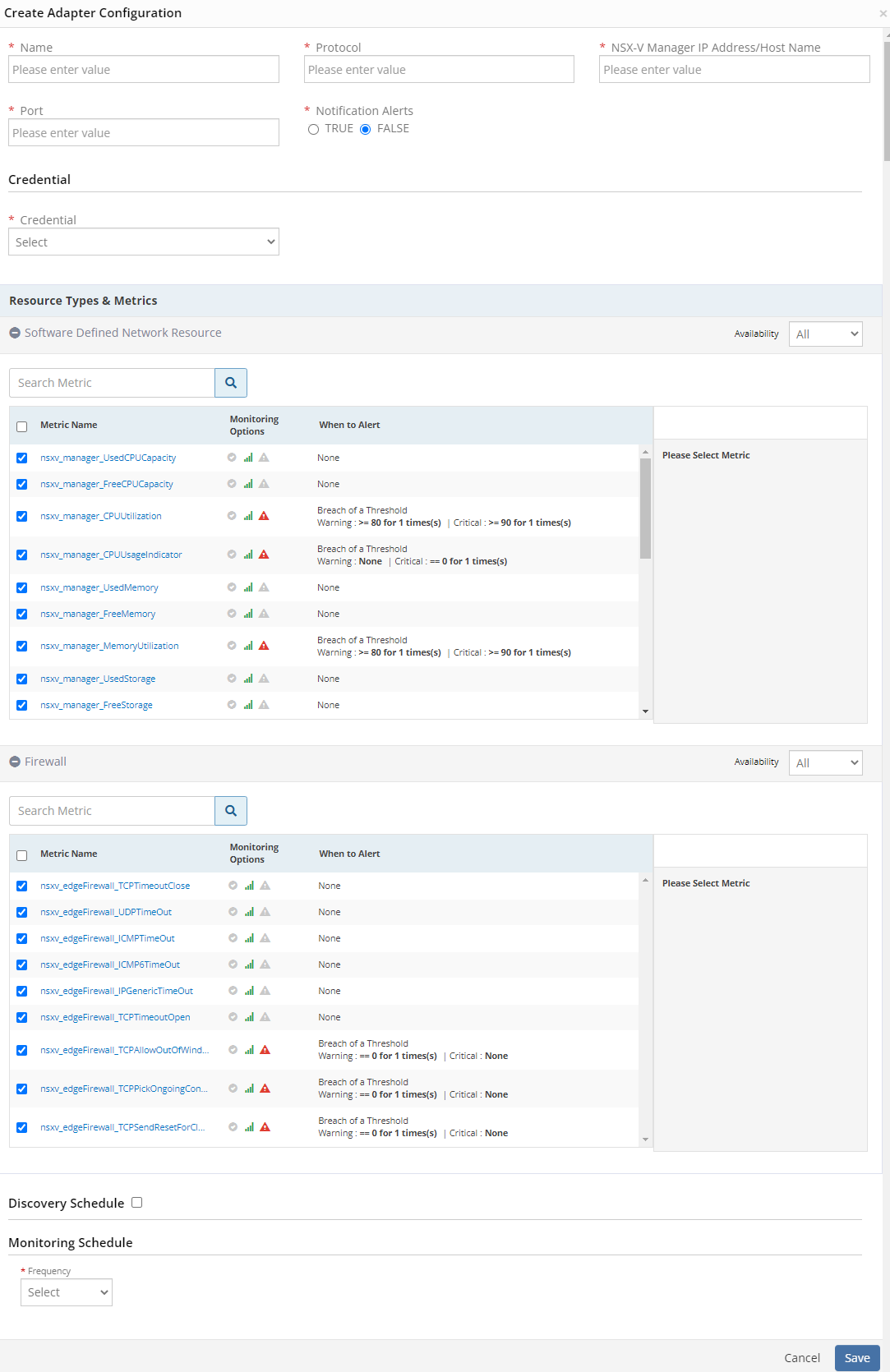 Click Save.
After saving the integration, NSX-V resources are discovered and monitoring is enabled as specified by the configuration profile.
The configuration is saved and displayed on the page.

You can perform the actions manually, like Discovery, Monitoring or even Disable the configuration.
The discovered resource(s) are displayed in the Infrastructure page under Software Defined Network Resource, with Native Resource Type as NSX-V Manager.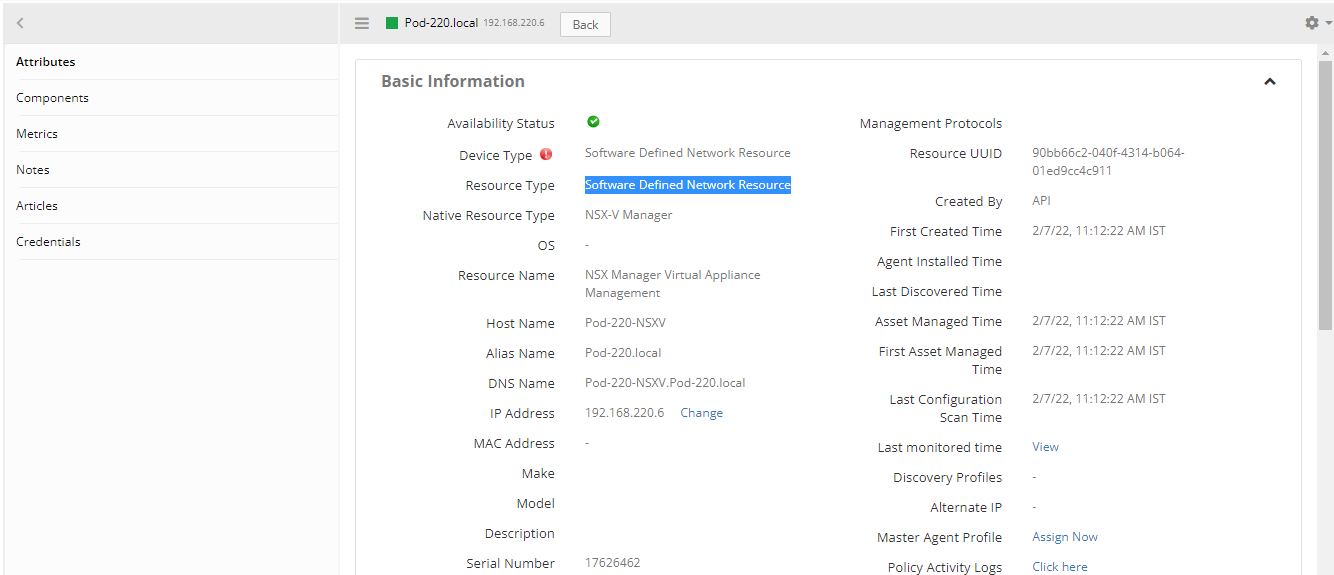 The controller(s) and logical switch(s) are displayed under Components:

Hierarchy of NSX-V resources:
NSX-V Manager
— Controller
        — Virtual Machine
        — Controller Cluster
        — DataStore
        — Transport Zones
        — Edges
            — Firewall
            — VNIC
— Logical Switches
Supported metrics for NSX-V
Metric Name
Metric Display Name
Units
nsxv_controller_Status

The status of the VMware NSX controller.
Possible values: 0 = NOT_RUNNING, 1 = RUNNING
NSXV Controller Status
—
nsxv_edgeFirewall_ICMP6TimeOut

The Edge Firewall configuration for ICMP6 timeout.
NSXV Edge Firewall ICMP6 Timeout
seconds
nsxv_edgeFirewall_ICMPTimeOut

The Edge Firewall configuration for ICMP timeout.
NSXV Edge Firewall ICMP Timeout
seconds
nsxv_edgeFirewall_IPGenericTimeOut

The Edge Firewall configuration for IP generic timeout.
NSXV Edge Firewall IP Genreric Timeout
seconds
nsxv_edgeFirewall_TCPAllowOutofWindowPackets

The Edge Firewall configuration for TCP allows out-of-window packets status.
Possible values: 0 = False, 1 = True
NSXV Edge Firewall TCP Allow Out Of Window Packets
—
nsxv_edgeFirewall_TCPPickOngoingConnections

The Edge Firewall configuration for TCP pick ongoing connections status.
Possible values: 0 = False, 1 = True
NSXV Edge Firewall TCP Pick Ongoing Connections
—
nsxv_edgeFirewall_TCPSendResetForClosedVsePorts

The Edge Firewall configuration for TCP sends reset for closed VSE ports status.
Possible values: 0 = False, 1 = True
NSXV Edge Firewall TCP Send Reset For Closed Vse Ports
—
nsxv_edgeFirewall_TCPTimeoutClose

The Edge Firewall configuration for TCP timeout to close.
NSXV Edge Firewall TCP Timeout Close
seconds
nsxv_edgeFirewall_TCPTimeoutOpen

The Edge Firewall configuration for TCP timeout to open.
NSXV Edge Firewall TCP Timeout Open
seconds
nsxv_edgeFirewall_UDPTimeOut

The Edge Firewall configuration for UDP timeout.
NSXV Edge Firewall UDP Timeout
seconds
nsxv_edgeVnic_EnableProxyArp

Enabled state of proxy ARP on VNIC.
Possible values: 0 = False, 1 = True
NSXV Edge VNIC Enable Proxy Arp
—
nsxv_edgeVnic_EnableSendRedirects

Enable state of redirects on VNIC.
Possible values: 0 = False, 1 = True
NSXV Edge VNIC Enable Send Redirects
—
nsxv_edgeVnic_IsConnected

The connection state of the VNIC.
Possible values: 0 = False, 1 = True
NSXV Edge VNIC Is Connected
—
nsxv_edgeVnic_MTU

The MTU on the VNIC.
NSXV Edge VNIC MTU
count
nsxv_edge_EdgeStatus

The status of the edge.
Possible values: 1 = GREEN, 2 = YELLOW, 3 = RED,
4 = GREY
NSXV Edge EdgeStatus
—
nsxv_edge_State

The state of the gateway.
Possible values: 1 = Deployed
NSXV Edge State
—
nsxv_manager_CPUUsageIndicator

The CPU utilization status on the VMware NSX Manager.
Possible values: 0 = Low, 1 = High
NSXV Manager CPU Usage Indicator
—
nsxv_manager_CPUUtilization

The percentage of CPU capacity utilization on the VMware NSX Manager
NSXV Manager CPU Capacity Utilization
percent
nsxv_manager_FreeCPUCapacity

The amount of free CPU capacity on the VMware NSX Manager
NSXV Manager Free CPU Capacity
MHz
nsxv_manager_FreeMemory

The amount of free memory on the VMware NSX Manager
NSXV Manager Free Memory
megabytes
nsxv_manager_FreeStorage

The amount of free storage on the VMware NSX Manager
NSXV Manager Free Storage
gigabytes
nsxv_manager_MemoryUtilization

The percentage of memory utilization on the VMware NSX Manager
NSXV Manager Memory Utilization
percent
nsxv_manager_ServerServiceStatus

The status of services running on the VMware NSX Manager.
Possible values: 0 = NOT_RUNNING, 1 = RUNNING
NSXV Manager Server Services Status
—
nsxv_manager_StorageUtilization

The percatage of storage utlization on the VMware NSX Manager
NSXV Manager Storage Utilization
percent
nsxv_manager_UpTime

The appliance uptime.
NSXV Manager UpTime
hours
nsxv_manager_UsedCPUCapacity

The amount of used CPU capacity on the VMware NSX Manager
NSXV Manager Used CPU Capacity
MHz
nsxv_manager_UsedMemory

The amount of used memory on the VMware NSX Manager
NSXV Manager Used Memory
megabytes
nsxv_manager_UsedStorage

The amount of used storage on the VMware NSX Manager
NSXV Manager Used Storage
gigabytes
nsxv_manager_VCenterConnected

The vCenter Server connection status.
Possible values: 0 = False, 1 = True
NSXV Manager VCenter Connected
—
Supported Version: NSX-V REST API 6.4
Risks, Limitations & Assumptions
The metrics can be used to monitor NSX-V resources and can generate alerts based on the threshold values.
App can handle Critical/Recovery failure alert notifications for the below 2 cases when user enables Notification Alerts in configuration:

Connectivity Exception
Authentication Exception

App cannot control monitoring pause/resume actions based on the above alerts.
Component level threshold configuration is not possible
Resource level metric threshold customization and frequency setting are not possible
Usability issues in app configuration page while adding/editing
Optional configuration parameters cannot be defined
App upgrade is manual process without version change
Related Topics