This section focuses on using the advanced search feature to search for resources, using the following:
Resource attributes
Values
Conditionals associated with the attribute
To navigate to the infrastructure search page:
Log in to the portal.

From All Clients, select a client.

Go to Infrastructure > Search.

The advanced search page is displayed.

The NEW VIEW tab has an Advanced search box. A Recent Queries list is also displayed, if you searched for resources previously.
Example:
The following example describes the search process for the resources that have "host" in the beginning of the string in the name attribute.
Type a query using the name of the attribute associated with the resource(s) you want to search. This example shows a search on the resource name attribute:

As you start typing the attribute name, a drop-down list displays the native and custom attributes that match the characters you entered. Use the down-arrow key or mouse to highlight and select the attribute you want.

Select the operator LIKE from the list of operators. Follow Query Language Reference syntax rules.


The example begins with a search for the string "host" occurring in the beginning in the name attribute of managed resources.

Note: The value entered in parentheses is case insensitive.

Enter the attribute value (in this case, host) and suffix it with a %, delimited by quotes for string data types. All the strings that start with host are displayed as search results.

Other examples:
If you enter the attribute value as "%host", all the strings that end with "host" are considered.

For the attribute value "%host%", all the strings that have "host" anywhere in name, are displayed.

When you finish entering the value, a green tick appears indicating that the query entered is valid.

Press Enter or click the search button. The search results display a summary list of resources that match the query:

To get the detailed information about a resource, click the resource Name:

Notes:
Your most recent query is added to the Recent Queries list, which shows the query string used for the search.
To repeat a previous query, click + icon to create a new tab, and then click the tile for that search string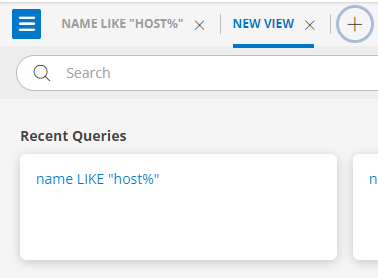 The search results are displayed as in the previous example.
For more information on how to use OpsQL, click here