The Windows services helps you monitor the operating system specific services for Windows devices in your environment.
Using Windows services, you can:
Monitor service status.
Monitor specific or all Windows state changes.
Generate alerts using Agent-based monitoring templates.
Use the following global template and metric name to monitor your Windows services:
Template name: Agent G2 - Windows Services Monitoring
Metric name: system.windows.service.status
Prerequisites
Include service names (with comma separated) in the Value text-box while assigning the template to a device. For example, opsramp-agent,opsramp-shield,svsvc,vmickvpexchange,wuauserv.

Install the agent on the target device to run the scripts.
Validate templates
After the configured services are running on the target devices, view the metric graph using Infrastructure > Resources > Device Details > Metrics. The graph displays the following metric values:
1 - Services are running
0 - Services are not running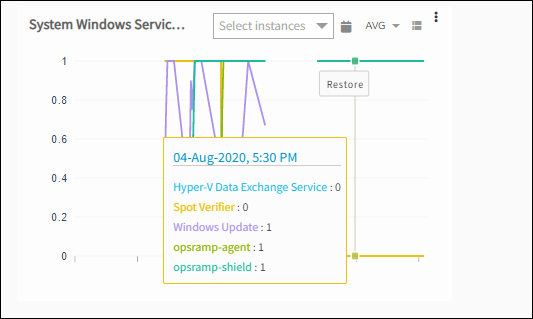 Windows services monitor alerts
View the Windows services alerts in the Alert browser. Examine the alert description to view the last modified time.